IEEE Citation & Referencing According To IEEE Format By Citation Generator Sienna
Citation of sources is one of the fundamental requirements of academic writing. As a student, you must be aware of Citation Machine in order to correctly reference your academic writing piece. Interestingly, there are several standards for formatting and citation. And each one of them has its own set of requirements.
IEEE citation style is one of the major citation standards, that is currently in practice. It is named after the Institute for Electrical and Electronics Engineers – a professional organisation that supports several branches of engineering, computer science, and information technology. As you may have guessed, the IEEE citation format is primarily used in technical fields. Also plagiarism checker is important to check since if the references are not placed correctly then there are chances that the work would be categorized as plagiarized.
In this IEEE citation guide, we will discuss the requirements for in-text citations of various sources of information, in different forms of documents. We will also highlight the basic requirements of formatting the paper.
What Is IEEE Citation?
IEEE referencing style is the brainchild of the Institute of Electrical and Electronics Engineers (IEEE). The organisation supports and sanctions research in the areas of electrical and electronics engineering. The IEEE citation style is the go-to referencing style for telecommunications, information technology, computer science, and related disciplines of engineering.
The IEEE citation style has three prominent traits.
The last name of the author follows the first name in IEEE citations.
For example, you would need to cite "James Joyce" as author name instead of other referencing conventions of citing it as "Joyce, J."
Titles of conference papers, articles, patents, etc. go in quotation marks.
Example: "What is electrical engineering today and what it is likely to become?"
Titles of books and journals go in italics.
Example: To Kill a Mockingbird
The IEEE reference format ensures that readers grasp all the relevant info with just a glance. Punctuation, dates and page numbers depend on the type of citation style you are choosing. Be careful with those when citing sources in IEEE referencing style.
How To Cite In IEEE Citation Format?
As you may already know, the process of citation helps an author acknowledge the sources of quotes, statistics and other pieces of information used in the document. In IEEE citation style, you need to follow the following instructions while citing the references:
In-Text Citation Standards:
The IEEE in-text citation uses the numeric style. To include a brief in-text citation, within the main body of the content you need to use specific reference number, enclosed in square brackets. The reference number is next to the material you have used, with a space before the bracket. Our plagiarism checker software would be helpful for the students in Canada for their assignment writing.
Once a source has been cited, you can use the same number for citing repeatedly, for all subsequent citations, to the same source.
The citations should be numbered in the order in which they appear in the text.
2. The citations should lead the readers to a full reference to the source in the reference list at the end of your paper.
3.The same citation process is used for both print and electronic references while citing them within the text.
4.You do not need to mention the author's name or the data of reference, while citing the references. Use them only when it is relevant to the text.
While talking about a cited reference in the text, you do not need to write "In reference [17]". Writing "In [17] is enough".
Citing Multiple References At The Same Time:
When you need to cite more than one source at a time, you need to list each reference number separately enclosed in square brackets, with a comma or dash between each reference.
For instance, you can use either this method [11], [12], [13], or use [11] – [13].
5.You can also use the reference numbers inside one pair of brackets, with a comma or dash between each reference.
For instance, you can use [11, 12, 13] or [11-13] depending on your preference
How To Create IEEE Style Referencing List?
As mentioned earlier in the IEEE citation guide, the citations in the text lead the reader to a list of references at the end of your document. The list is arranged numerically in the order you have cited within the paper. You need to follow these following standards while creating the referencing list.
The list should be titled "References." It should be aligned either to centre or left side of the page.
Create a hanging indent for every reference, with the bracketed numbers flush on the left side of the page. These hanging indents highlight the numerical sequence of the references.
The name of the author (or authors) should be listed as first initial, last name. For example, Earl Robert Babbie would be cited as E. R. Babbie (not Babbie, Earl Robert).
The title of an article should be listed in quotation marks.
The title of a journal or book should be listed in italics.
Refer to this following IEEE reference format example for better understanding.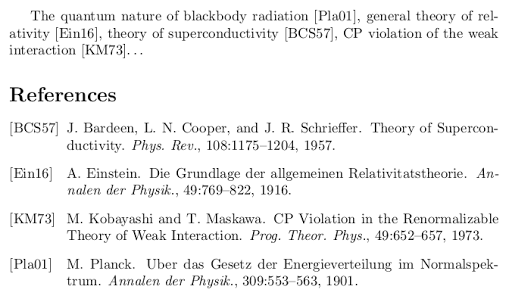 Image 2: Example of IEEE style referencing list
Source: Murdoch University Library
What Is The IEEE Citation Generator?
IEEE referencing generators are the shizz right now. If you are active on social media, you must have come across student platforms, groups, and discussion forums raving about IEEE citation generators. It is essentially a resourceful tool with a simple interface.
IEEE citation machines promise to take a load off your chest when it comes to referencing external sources for your paper. However, there's much more to an online IEEE citation generator than meets the eye. Here are a few tricks to choose the perfect IEEE citation machine online.
Check out reviews for reliable IEEE citation machines from scholars who have used it before
Take a trial run before you dump all publications for citation
Know IEEE reference format beforehand to spot discrepancies, if any
Check to see if it provides citations for free or charges exorbitant rates to get it done
Once you zero in on an IEEE referencing generator, all that remains is to get your list of references done from the same.
How To Use The IEEE Citation Machine?
Most citation and referencing generators online are easy to use. You should choose one that simplifies the whole process instead of making it even harder. Sure, creating an entire list of references for your electrical engineering dissertation may seem too laborious at times. An IEEE referencing generator will definitely make it easier for you.
You can use online citation machines including the IEEE citation and reference generator of MyAssignmenthelp.com. Here's how you can use the tool:
Log on to the online citation machine
Select the citation or referencing style you want (in this case, IEEE citation style)
Provide information source to the machine and click on the begin button
Wait for a few seconds, and get a fully cited section that you can directly copy and paste to your paper
See, that wasn't too difficult. Using citation generators online is the wise thing to do. Not only does it ensure precise references and citation, but also helps you save on precious time and effort.
Dissertations, research papers, essays, term papers or theses don't have to be too long-drawn when you have citation generators by your side. Set smooth sail with online citation generators you can rely on. Pick one that ticks all the boxes, and you can submit a paper with a flawless citation. However, you must know the basics of any citation style (take IEEE citation as an instance) before you take the help of an online citation generator. Good luck with the papers this term.
IEEE Style Guide For Formatting An Assignment
IEEE or engineering citation style dictates how you should cite the references in your paper. However, if you check the IEEE editorial style manual, you may see that it has some standards for the assignment format as well. While drafting the body of the paper, you should follow the guidelines outlined in the IEEE formatting guide.
Abstract:
An abstract appears in the text in bold face.
Abstracts do not need numbered mathematical equations or numbered references.
Index terms:
The index terms should be in boldface type, just like the abstract.
They should appear in an alphabetical order, as a final paragraph of the abstract.
Define acronyms that are used in the paper in index terms.
Nomenclature:
Nomenclature lists (lists of symbols and definitions) usually follow the Abstract and Index terms and precede the Introduction.
Text section headings:
There are four levels of section headings – primary, secondary, tertiary and quaternary heads.
You can number these sections if you want, but it is not mandatory. However, you need to be consistent about the choice throughout the paper.
Primary heads are enumerated by Roman numerals and centred above the text.
Secondary heads are enumerated by capital letters, followed by periods, flush left, upper and lower case, and italic.
Tertiary heads are Arabic numerals, followed by parentheses.
The quaternary heads are similar to tertiary heads. Only lower case letters are used as labels and only the first letter of the heading is capitalised.
Reference and acknowledgement headings are never enumerated. They are more like primary headings with labels.
Appendix headings are set according to the usual style of a primary heading. You can use Roman numerals as heading numbers (Appendix I) or letters (Appendix A).
Text equations:
Equations within an assignment are numbered consecutively, from the beginning to the end of the assignment.
You can number the equations by sections, e.g., (1.1), (1.2.1), (A1), etc.
Acknowledgement:
The placement of Acknowledgement appears after the final text of the paper, prior to the References section.
When citing names within the Acknowledgement, use first initials only, not full names. Do not use Mr., Ms., Mrs., or Miss. Use titles like Dr. or Prof. with each name separately.
Acknowledgement needs to be written in the third person.
Hopefully, you have developed a fair amount of idea about the citation and formatting style after going through the IEEE citation guide. However, if you have any problem understanding the requirements, you can look for IEEE format examples by visiting MyAssignmenthelp.com.
Get Quality Engineering Assignment Writing Support
Proper Citations And Quality Solutions Ensured
Citing the sources of information in the IEE citation format might seem difficult at times. Besides, there are other challenges that keep the students from finishing their papers on time. At PunjabAssignmenthelp.com, we acknowledge these issues. To help you overcome these obstacles, we have designed a variety of services that cover almost every aspect of assignment drafting. We have apa citation generator as well as harvard reference generator to help students. Plagiarism check is also mandatory with every assignment students submit in Canada. So we offer plagiarism checker free of cost for the students to check their work with us. Many a times students are diverted by the paraphrasing tool available in market and complete their work using these paraphrasing tool as teacher normally catch student doing that. Paraphrase tool generally change the flow of sentence and most of the time sense of the sentence is gone and work can be easily identified. So always advisable to write on your own and check plagiarism in every work before submission.
PunjabAssignmenthelp.com is a decade-old assignment writing company with over 5000 skilled experts. Here you can get expert assistance on assignment writing, assignment editing, formatting of the paper, citation, and even topic selection. Along with citation generator and mla citation generator we make use of the ieee citation for every assignment requiring IEEE referencing. Citation maker and bibliography maker services are offered by us to Canadian students. The best thing about the services is that you get to experience exciting features, including the following:
Error-free content, with complete adherence to formatting instructions.
Guarantee of plagiarism-free paper. You can avail its Turnitin report as well.
On-time delivery of every order. Keep track of your order with free SMS updates.
Affordable range of services. Get a free price quote by submitting your requirements.
Get effective support from customer care executives throughout the day.
Get best of math help services in Canada with our best math homework helpers
Receive free rework from us, if your initial requirements are not met.
Access free samples of well-crafted assignments.
Get APA Generator free of cost with every assignment help service
Even we have wordcounter which would keep track of number of words being used in the assignment
Enjoy insightful blogs on various academic tasks and expert opinions.
100% confidentiality of user data.
Secure online payments for hassle-free transactions.
Get from plagiarism checker with every assignment written by us
You can ask us cite this for me free of cost
So, why are you still waiting for? Place your order for Assignment Help from us, and enjoy unmatched support today.